From roofs to driveway cleaning to patios
the Zero Pressure Washing Way!
From Seagate Country Club to Sherwood Forest, it's Saturday morning in Delray Beach and homeowners like you finally have some time to make those home improvements you've been wanting to tackle!
Let's see, the checklist includes so many things you'd like to get done –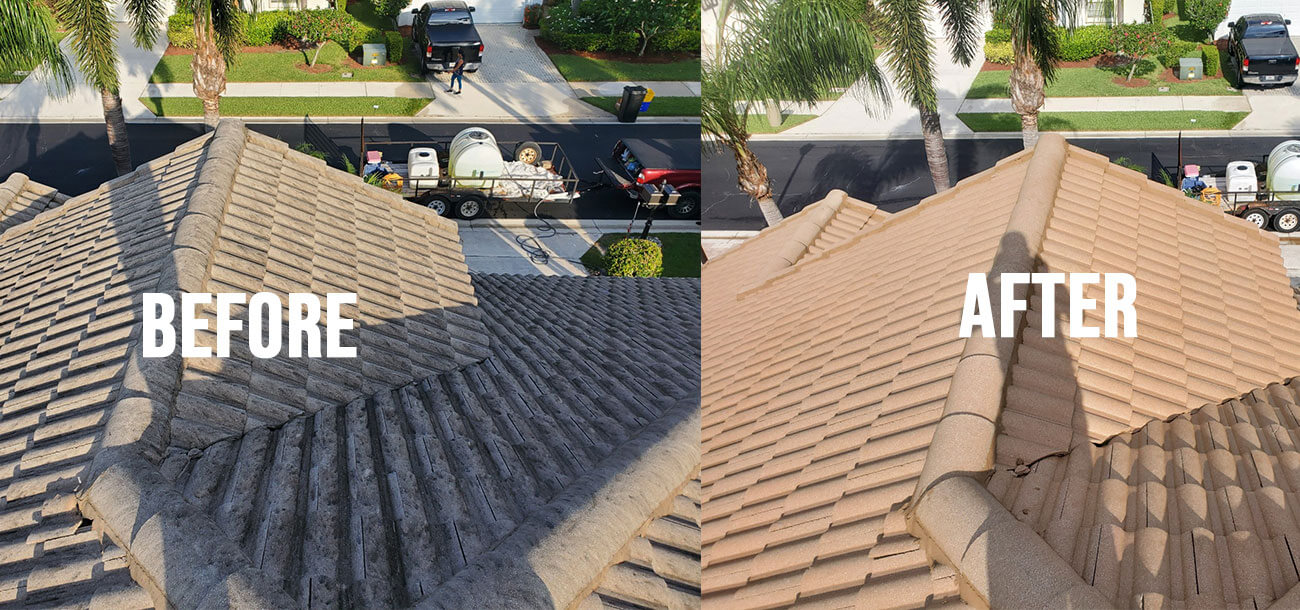 You could go over to the home improvement store and struggle to get up to speed on what it would take to accomplish each of these improvements
Or, you could 'take the pressure off' and simply call the Delray Beach 'no' pressure cleaning experts at Zero Pressure Roof Cleaning!
At Zero Pressure Cleaning in Greenacres and serving all of Palm Beach County, we take the headache out of keeping your home's roof driveway, patio and walls clean.
Call us today at (561) 412-8486 to get started or get a FREE ONLINE QUOTE! ( Same day service available! )
Roof Cleaning Without the Damage, the Cost or Time of Pressure Washing
Our state-of-the-art roof cleaning solution leaves your roof spotless, easily removing years of dirt and grime within a couple of hours! You'll be amazed at how easily we make your roof sparkle again, for so much less than traditional roof cleaning pressure washing. And we do it without damaging any tiles or shingles because we don't use high PSI water pressure, we use our innovative and environmentally friendly cleaning solution!
Most roofs in Delray Beach are made of Spanish tile, which is notorious for cracking and chipping during traditional pressure washing. From Seagate Country Club at the Hamlet to Kings Point, Lake Ida to Tropic Isles, your home's roof greatly affects the look and ultimate value of your home. We will transform your roof to take it from a liability to an asset once again!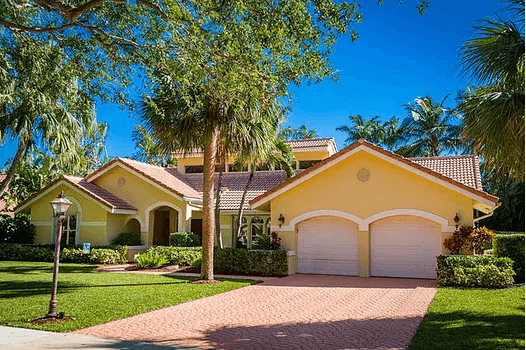 Need your driveway cleaned?
Zero Pressure Cleaning will amaze you with how clean we can get your driveway looking again. Look at how we transformed the look of this driveway in Seagate Country Club!
Rather than using high power pressure washing that can hurt your driveway surface, takes hours of loud work and costs much more, we use our 'pressureless' cleaning system that utilizes environmentally friendly chemicals to get your pavers looking like they were just laid down yesterday!
Wall Water Stain Cleaning
Stains on your walls from hardware sprinklers? No problem, we'll get the walls of your home looking clean again, the zero pressure way!
Summer is coming, it's time to get your patio looking 'ship shape' again. Our team is ready to 'not' pressure clean your patio, but Zero Pressure Clean it!
And all of our work comes with a 2 year guarantee. If the stains come back, we'll be there to remove them! From Rabbit Hollow to Sherwood Forest to Tropic Isles, Zero Pressure Cleaning has been helping Delray Beach homeowners with roof cleaning, driveway, and patio cleaning, and rust stain removal quickly and inexpensively since 2015. We're ready to do the same for you.
Call us today at (561) 412-8486 or get a FREE ONLINE QUOTE!