Patio Cleaning for Broward, Dade and Palm Beach
Need Your Patio Cleaned?
If you live in South Florida, why settle for a dingy, dirty patio floor when you can easily and affordably have a clean and rejuvenated patio or balcony that will make you (and your guests) feel so much more positive and relaxed?
From Coral Gables to Corals Springs, Pompano Beach to West Palm Beach, South Floridians are choosing Zero Pressure Roof Cleaning for their patio and balcony washing needs.
Call (561) 412-8486 to get started NOW.
NEW 'No Pressure' Patio Washing Technology
You are probably expecting us to use the traditional pressure washing solution? Not anymore. That's ancient history from the 20th century! Our NEW 'zero pressure' cleaning system/method is a high tech solution using a proprietary liquid solution. This amazing solution removes dirt, moss, mildew and algae instantly and restores the original beauty of roof material in a safe and effective manner.
Benefits of 'Zero Pressure' Patio Cleaning: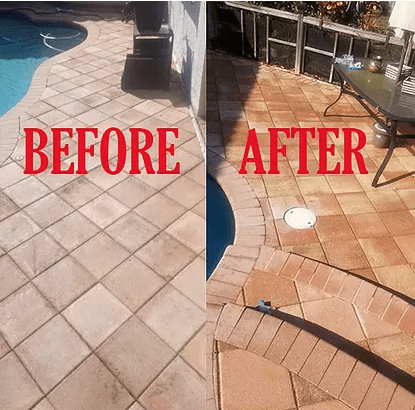 ● Fast
● Inexpensive
● AMAZING results
● All work GUARANTEED ( 2 years clean or we'll redo it FREE! )
How Much Does it Cost to Have Your Patio Cleaned?
Our technicians are licensed and insured and work throughout Dade, Broward, Palm Beach County and Martin County. We're ready to give you a quote on the spot and get the work done same day. In fact, it only takes 1 – 2 hours to completely restore your patio or balcony to get it looking like new.
"Wow, I'm really impressed with the work Zero Pressure did to my home ( in Delray Beach ) They not only cleaned my patio but then I had them do my driveway and they also removed the rust stains from my walls. I highly recommend Zero Pressure Roof Cleaning"
John Stuben
Delray Beach
2 Year Guarantee!
We value each and every one of our customers throughout South Florida and we're so confident in our results that we will give you a 2 year guarantee on every patio cleaning. That's mean our company will re clean your patio or balcony for 'FREE' if it gets dirty again before 2 years of our original cleaning.
So why wait, 'Get that Clean Feeling Again Today!' Call (561) 412-8486
Serving Broward County, Palm Beach, Lake Worth, Miami Dade County, and Martin county