Driveway Cleaning Using The Newest Technology
Our Driveway Cleaning Methods Perform Better Than Pressure Washing
Need your driveway professionally cleaned? Zero Pressure Cleaning will get your driveway looking GREAT again! We clean just like pressure washing companies except we use a new, 21st century method – Instead of high power pressure washing that damages your driveway surface and costs more, we use an amazing 'pressureless' cleaning system using safe, environmentally friendly chemicals that get your driveway completely clean, giving it that 'new' look again!
Reasons to Have Your Driveway Cleaned by Zero Pressure Cleaning Company:
● Feel great about parking your again!
● Save MONEY – we are LESS than traditional pressure washers!
● Save TIME – our company is FASTER than the others
● A clean driveway ads 'curb appeal' to your home.
We are experienced, we are friendly and customer service oriented, we are licensed and fully insured and we GUARANTEE you will be completely satisfied?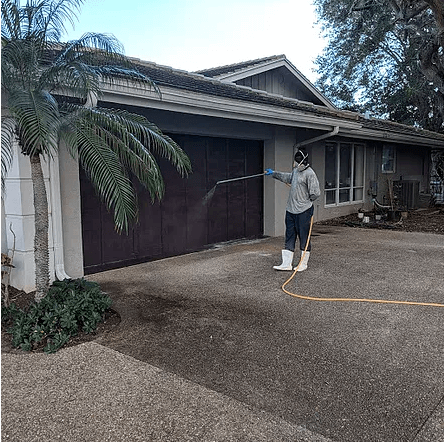 Get Your Roof Cleaned in 2 Hours or Less
Our entire process typically takes 2 hours or less. There is no need for heavy rinsing and big water bills. Best of all, our 'Zero Pressure' driveway cleaning system and technology includes a 2 year guarantee!
Since 2017, Zero Pressure Cleaning has been helping homeowners from West Palm Beach to Boca Raton, Delray Beach to Pompano Beach clean their driveways fast and affordably. We can do the same for you. Call us today at (561) 412-8486 or get a FREE ONLINE QUOTE!