Rust Removal Service and Sprinkler Stain Removal
Tired of seeing rust stains on the side of your South Florida house or driveway?
We'll Remove the Stains for You! Our rust stain removal team will quickly, easily, and affordably remove the stains from your driveway and walls using our 'state of the art' formula! No loud, expensive, and time-consuming pressure washing. We use NEW state-of-the-art stain dissolving formula to instantly wash the stains away!
Rust Happens
Like many South Floridians from Miami to Delray Beach and north to West Palm Beach and beyond, you may be getting rust-colored stains on the sides of the walls of your home and or on your driveway and pavers. These stains are caused by sprinklers spraying the well water / hard water over time.
If you live in South Florida, you probably have well water sprinklers. Well, water contains iron, and iron causes rust stains after long periods of being sprayed on buildings and houses.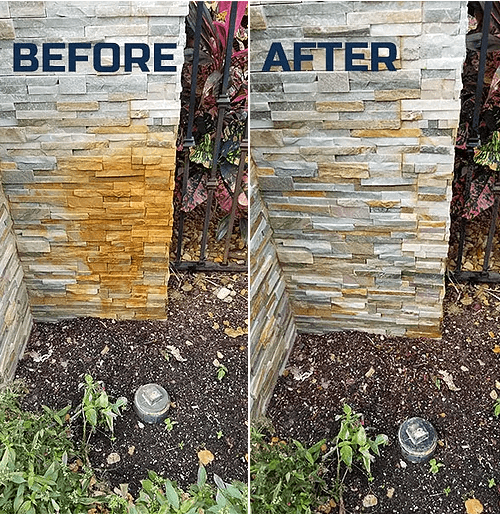 Our Unique, Safe, Fast Process
Our Rust and Sprinkler Stain Removal Process Includes:
Our Licensed and Insured Technicians Come to Your Property
A Gentle cleansing formula is applied and it simply washes the stains away
The treatment takes only minutes per stain
Harmless formula is biodegradable and environmentally friendly
No power washing or pressure washing to remove the stains!
Licensed and Insured
Our friendly technicians will visit your home or office property – from Miami to Boca Raton, from Delray Beach to West Palm Beach and beyond, to introduce ourselves and give you a quick estimate. Then, if you approve, they'll get to work immediately to Instantly remove these annoying and unsightly rust sprinkler stains. Our formula is not only effective, but it's biodegradable – so it won't harm the finish of your home or the plants and grass around the area.
Zero Pressure Cleaning is South Florida's 1st and best proponent of the zero-pressure method of roof cleaning and driveway cleaning.
Service areas: Palm Beach, West Palm Beach, Lake Worth, Del Ray Beach, Broward, and Dade Counties in Southern Florida. Contact us for a free quote today
Call us for a free quote at (561) 412-8486 or simply book your appointment online!